I know what you're thinking. A gift idea about Kanye West? WTF? How is that going to work? EVERYBODY JUST CALM DOWN. Just hear me out for a second.  Although in recent years Kanye has exhibited some rather unusual behavior, you cannot deny the fact that he is his own character with his own unique attributes.   Remember, Kanye has evolved over the years.
From The College Dropout to weirdo Yeezy, lets take a journey through time and you will see that these Kanye inspired gifts are absolute perfection for your husband's next birthday. Here… we… go.
1. College Drop Out Kanye
Photo By Oregon Ducks
This men's gift idea is inspired by the college drop out album of 2004.  At this time, I was just graduating from high school and headed off to school in the south! I attended Dillard University in New Orleans. Where are my NO folks at? WHOOP! Anyway, there is a song on the album called School Spirit.  Gift your hubby with alumni gear from his college or university!  My husband loves the Oregon Ducks, so Duck gear is always a winning gift in this household. Which college team does your man root for?
2. Kanye's Workout Plan
This song was also on the College Drop Out, but it had sexual references. Sex is always a good gift idea for your man but in this case gift your dude with a super fly new gym membership or amazing new gym equipment. If you live in the Los Angeles area, Equinox is the most incredible gym I have ever been to. State of the art EVERYTHING! A gym membership to a high class gym would be incredible. Maybe even buy him a personal training session.
3. Katrina Kanye
"George Bush Doesn't Care About Black People." Um…. Remember that cringe worthy Kanye statement? I remember it extremely clearly because I was someone who was directly affected by Hurricane Katrina in 2005.  I was going to school there and had to evacuate (that's a whole other blog post) . Anyway, we all cringed but secretly applauded Kanye in this moment. And although it was a shocking statement, he used his celebrity platform to awkwardly and inappropriately give a voice to the black citizens of the New Orleans community.  He was "trying" to do a good thing. So it has inspired this gift idea.
Why not give your man a gift that gives back?  Donate in his honor to a disaster relief fund and lets prevent another Katrina situation (and Kanye Situation) from happening again.
4. Luxury Dad Kanye
Kanye West is a dedicated father to his absolutely adorable kids North and Saint.  But he is no BBQ'N, New Balance Wear'N dad. He is pretty (in my Guy Fiere voice) "Out of Bounds." So what kind of luxury gift do you give such a dad? I was inspired by his wife Kim and the extreme gift she gave to him for his birthday in 2015. She actually gifted him a birthday extravaganza at The Staples Center (LA's Professional Basketball/Sports Complex).  This gift cost a hefty $110,000!!!! You can read the article here.
Instead of gifting your boyfriend the entire sports center (unless you got it like that. I sure don't) Give him the gift of a professional sport game at the sports arena in your area. Here in Oregon we have the Portland Trail Blazers and the Portland Timbers.  The sports guy in him with LOVE you for it. Click Here
5. Baby Kanye………….. * Little Man Gift Alert*
Let's face it, these days there is no Kanye without Kim being somewhere nearby.  Well, I'm excited to see their adorable kid's line.  Having a child myself, I love shopping for kids clothes.  Keep in mind, this is Kanyashian so it is an expensive line. But OH SO CUTE! Their kids line is called The Kid Supply. Give the little man in your life a cute bomber jacket or graffiti shoes for his big birthday celebration.
 Photo by Starcasm.net
///TRUE STORY: Kanye's Design team was contacted by Oregon's Department of Transportation (Tri-Met) because apparently Kimye stole Tri-Met's logo without their permission and placed it on their kidswear sweatshirts! Ha!  You can read more on this here
6. Yeezy
If you are unfamiliar with Kanye, he also goes by the name Yeezy.  He has since created a clothing line named after himself called Yeezy Supply.  It is basically an extremely minimalist style of design which could be called boring or just downright weird.  But there are some items that he has that are actually pretty fabulous.  If you have Kanye money, you can gift your man with something from his clothing line.
photo by Vogue Paris
Give him a little gift of millenial pop culture to marinate on.  Something to tell your grandkids about!  If the Yeezy Supply line is too spendy, check out Yeezy Boost by Adidas.  The shoes are a bit more "affordable!"
7. Kanye Food Faves
Take him on a cheap date to one of Kanye's favorite places to eat, McDonalds! Apparently, Kanye has a ridiculous obsession with Mickie D's.  I too can't get enough of their amazing french fries.  Check out these other known Kanye restaurant faves.
 Photo by Spotted Pig/ Getty Images
If you can't take him out, Kanye is known to be obsessed with junkfood such as, Chips, Sour Skittles, and Ice Cream. Give your junkfood loving man a homemade Junkfood basket as a surprise "for no reason" gift.  #nomnomnom
8. "Beyonce had the Best Video of All Time"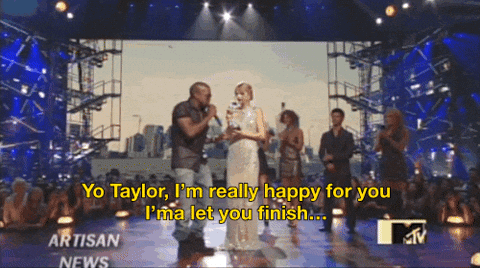 Remember this? Yikes! Cringe! NOOOO!!! So maybe Kanye put his foot in his mouth during Taylor Swift's moment.  He literally stole the spotlight. How about a gift that puts your man directly in the spotlight with Improve Lessons!!
Take him out of his comfort zone and into the Kanye Zone with some acting skills.  This would be a fun activity for you both to enjoy.  Take a couple shots before you go to take the nervous edge off and Get out there and get Kanyefied!!!!
9. Kanye the Wrapper
Kanye is first known for being a very intelligent and clever hip hop artist.  He would rap (get it) about some very REAL subjects which I loved about old Kanye. When all is said and done, if you are giving someone a physical gift you typically wrap it up in some sort of way.  Why not wrap your gift to grandpa in this Kanye wrapping paper?
 Photo by Native21
Gramps will probably ask you who he is (I know mine would LOL)  but to me that's the best part. Creating fun memories with your family!  How fun is this?
You see!!  Kanye isn't as crazy as they make him seem. He just needs to be reimagined as a gift idea. Whether you choose one or all of these gift ideas I hope you were inspired to think outside of the box and create something truly imaginative that your loved one will really enjoy.
Can't get enough of my clever gift ideas? Subscribe here for MORE!
Cheers,
Sarah